Why Choose BAVC Media Apprenticeships?
Diversify your talent pipeline with more women, people of color, veterans, disabled and LGBTQ candidates. Reap the benefits of home-growing your talent through apprenticeships – you'll get higher productivity and nail retention. Hungry, talented apprentices are standing by! If you have someone in mind for a new hire, you don't have to rely on our referrals–choose whom you'd like to apprentice. While you are expected to hire your apprentice on Day 1, you are under no obligation to keep the apprentice.
Leverage Your Existing Talent Programs
If your business already has an internship program or formal mentorship culture, aligning it with registered Apprenticeship will maximize your benefits. Apprenticeships allow forward-thinking businesses to leverage existing recruitment and professional development investments, and will augment your talent search and learning and development strategies in the following ways:
Receive new, non-traditional, pre-screened candidate referrals

Leverage alternative career pathways, professional growth and retention
Maximize your diversity and inclusion efforts
Looking to promote someone already on staff? Convert them to apprenticeship and receive national recognition. This is the way we raise the floor! (remove the language about $2500)
Promote Current Staff
Did you know you can leverage the training stipends available through the TechSF Apprenticeship Program to promote your current staff?
Investing in the continuing growth of your staff is good for business. We can point you to training options that will make sense for your team and training is a leading indicator for higher retention rates, helping to reduce costly turnover. BAVC will provide support navigating American Apprenticeship registration. We want to make it ridiculously easy for you to staff up with qualified candidates.
Upon achieving the competencies outlined for the promotion, the employee must receive a wage increase (no restrictions on the amount). BAVC Media will provide the same level of support as with the registration of program and your company may be reimbursed for up to $2,500. You are not required to pay your employee for training that occurs outside of business hours.
How It Works
The team at Bay Area Video Coalition provides concierge-level support through all the phases of program–from recruitment to help with creating the training plan to registering the program in the DOL database, so that your company can reap the benefits. We're here to make the registration process as seamless as possible.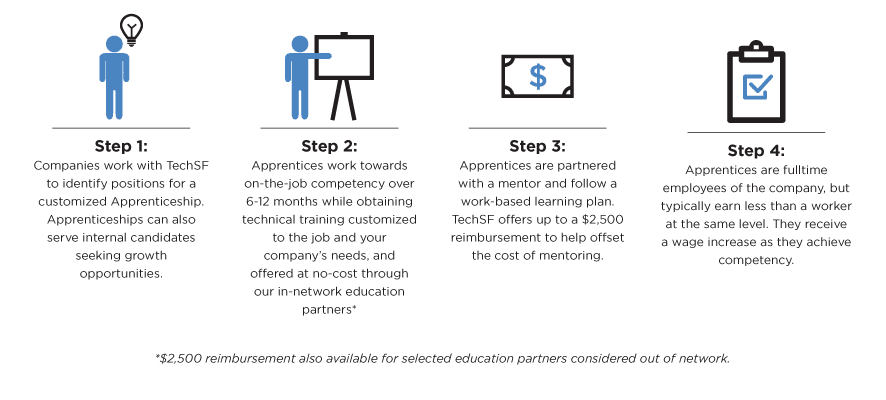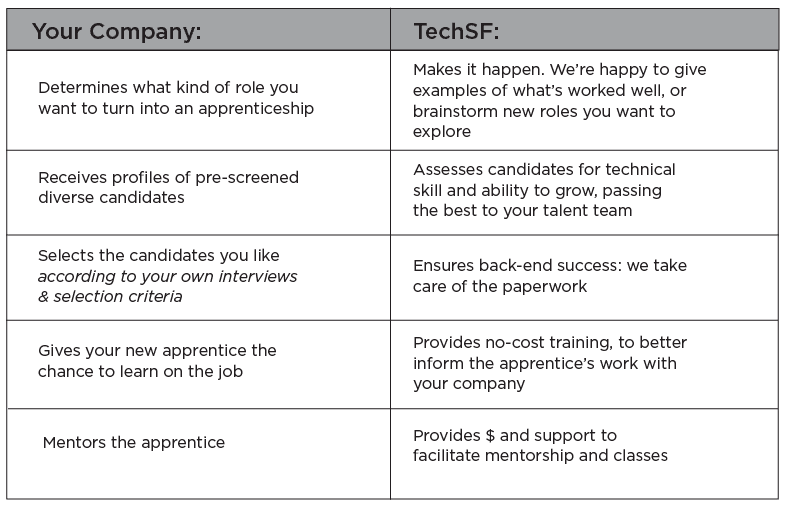 Become a Partner. Get in touch.
Orrian Willis, Sr. Workforce Development Specialist, OEWD
All services offered at no cost to participating businesses or jobseekers.