Adobe Youth Voices and Next Gen's Career Panel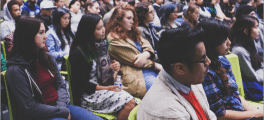 On February 11, BAVC Media Next Gen and Adobe Youth Voices (AYV) held a career panel for young professionals at City College of San Francisco. The panelists shared advice and discussed how they've forged careers in the game, design, film, coding and audio industries.
Melissa Suncin, writer, director, and producer, introduced her San Francisco based production company, La Doña Films, which she co-founded in 2013. Suncin described it as "an enthusiastic company that strives to create captivating content that is diverse and inspiring; showcasing the talents of the skilled professional filmmakers of San Francisco."
During her discussion, Suncin emphasized "trying new things to enhance strengths, and finding creativity in surroundings." Constant education and collaboration were two other important points affirmed by Suncin. Suncin concluded her presentation by reminding the young audience to surround themselves with support, positivity and self-motivation, and to find art and creativity in all aspects of their lives.
The next panelist was designer, illustrator and artist Kenny Kong, who currently works at Japanese mobile design company, DeNA, where he designs 3D characters and scenes. Kong mentioned that his passion for break-dancing and hip-hop music served as an inspiration, bringing him "a sense of purpose and fulfillment."
As part of his career trajectory, Kong has held multiple roles in video game testing and in creating computer graphics-inspired street art. He shared pictures of CG animal models that he had placed in subways to bring art to more people. "Don't think too hard, just get your ideas out in order to evolve," he concluded.
Ray Gilstrap, Chief Technology Officer for Information Technology at NASA, credits landing his current job to tinker toys, dial-up computers, and Star Trek. A bass guitarist, Ray explained how the arts and science co-exist by using the example of building his own recording studio at home. He indicated, "both [art and science] are languages in which you can express your creativity and imagination."
At NASA, Gilstrap works to identify and evaluate innovative technologies with the potential to enhance IT services for NASA users, projects, and missions and incubate innovative Ames IT projects seeking a broader audience. He uses technology to create tools that help people make their lives better, while never losing sight of the greater good those solutions contribute to. As Gilstrap said, "never forget that you are an important part of local and global communities that need you." That's certainly a message that resonated with both BAVC Media and AYV's missions.
The next panelist Julie McDonald, Director of Production at Viz, a Japanese manga and anime production company, traced her career to studying French literature and working for NASA Graphic and Dreamworks (on films such as Toy Story). She explained that producers manage input (story and script), process (animating and filming) and output (rendering and distribution). McDonald stressed that problem solving, technical skills and willingness to work with diverse people are key to succeed but that attention to detail is the most important of all. McDonald declared, "your attention is your life currency," humorously adding: "Don't waste your life currency on Internet cat videos."
Laila Shabir, the CEO of Girls Make Games, spoke next. Girls Make Games is an international outlet for summer camps, workshops and game jams designed to inspire the next generation of female designers, creators and engineers. Shabir also founded Learn District, an educational games studio based in San Jose, CA.
Prior to becoming involved with all things game-related, Shabir briefly held a job on Wall Street and worked for a socio-economic and educational reform think tank. Upon meeting a professional gamer, her perspective changed and she realized she could use video games as a platform for educational reform.
She recalled her struggles and frustrations while growing up in a traditional Middle Eastern family that did not support her educational dreams. She prepared for college by using resources found at her local library. Shabir encouraged students to follow their hearts despite social, financial and behavioral pressures. "Become the person the world needs now," she concluded.
BAVC Media Training Strategist Mwende Hahsey moderated a brief Q&A before moving panelists into smaller groups where students could ask their questions. During the Q&A, panelists discussed how to prepare for professional jobs during high school and college, how to get a job in their prefered media industry, and the skill sets necessary for interviewing. This exercise was a great opportunity for students in interact with professionals in an accessible and approachable environment. Aspects of networking, interdisciplinary skills, and artistic portfolio building were highlights of the discussion with Next Gen students sharing their own personal inspirations and triumphs.
About Adobe Youth Voices
Developed by the Adobe Foundation, AYV serves to ignite young people's Creative Confidence- the ability to harness creative skills to solve problems- with advanced digital media tools and powerful storytelling techniques. Since 2006, AYV programs have engaged thousands of educators and youth from all over the world to develop thought-provoking content on relationships, human rights, the environment, and other social topics.
About BAVC Media Next Gen
BAVC Media's Next Gen program offers flexible pathways for young people from diverse neighborhoods across the Bay Area to increase their storytelling, social justice and media arts skills. BAVC Media Next Gen helps young adults gain experience and opportunities that lead to media arts careers, entrepreneurship and post-secondary pathways.
Teagan Singer is a video production senior in Broadcast and Electronic Media Arts at San Francisco State University. She enjoys the creative aspects of storytelling, and is inspired by the diverse communities throughout San Francisco. Her internship with BAVC Media Next Gen has connected her with different artists and inspired her to expand her craft.