G:URL Gamers at Zynga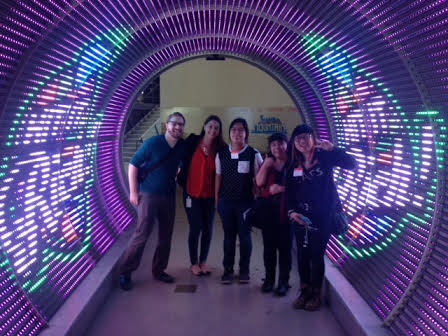 On Friday I had the privilege of accompanying our G:URL Gamers and their amazing instructors Regis and Amy to their final presentation at Zynga. The students have been working for the past two weeks to create their own games, which they shared with a group of female engineers, designers, project managers and programmers.
They were so great! I couldn't have been more proud of these ladies and if you have met them before, I am sure you know why. One student kept us laughing the whole day with her questions and conspiracy theories (she is quite the comedienne) but really broke it down during her presentation. She said that coming to BAVC Media to learn how to make a game was so important to her because, as an autistic female interested in math in science, she feels like a total outsider at school and 'school is hell' for her. She said that coming to BAVC Media was the opposite of that because she feels accepted for who she is, that her differences are seen as strengths, and that she got to make lasting friendships in real life, instead of online where she can be anonymous and no one knows her real self. WOW!
The engineers got to play the students' games and give them feedback. Then we sat down for a group chat during which the engineers reminded the young ladies that they "deserve the very best," including being able to ask questions, question dominant narratives, and be themselves. I think that the adults had as much fun as the young women. An amazing and empowering day! Go G:URL Gamers!
The event was hosted by Erin Baudo Felter, Director of Employee & Community Impact at Zynga.org. Zynga.org's mission is to inspire millions of players and game-makers to make the world a better place through games. In partnership with SFUSD, Zynga.org has launched Game Design Academies at two San Francisco public high schools that include game design curriculum and experience-based learning opportunities to inspire students to consider careers in technology. The G:URL Gamers Summer Game Academy was generously supported by Zynga.org.