Highlights from BAVC Media's first Bridges Fellowship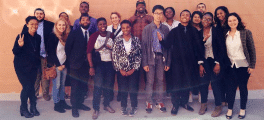 The following reflections were provided by two peer mentors from the Bridges Fellowship program, which just completed two intensive week-long series of career workshops and trainings in June and July. During each intensive, Fellows received training and support from peer mentors and a team of professionals in the video, audio, gaming-production, design and coding industries to develop entrepreneurial and leadership skills.​ All Fellows pitched a project and received $500 in funding to complete the concept over the next two months. Final projects will be presented at BAVC Media's Next Gen Bridges Fellowship symposium this fall.
Reflections from Jermaine (Bradley) Cameron, Bridges Fellowship Mentor
The Bridges Fellowship helps young adults attain their dream jobs in media arts and tech. Over the course of the program in June, I noticed that the Fellows I mentored grew more confident in their ability to tackle challenges and were inspired to create socially conscious projects.
Participants presented their concepts to a panel of industry experts from companies such as Adobe, Google, KQED, and Twitter. The experts and guest speakers inspired the Fellows to focus on creating projects with a strong emphasis on social justice, leadership, and entrepreneurship. I was particularly impressed by artist and Black Panther Minister of Information Emory Douglas's presentation on the power of art and its ability to transform society. It was also encouraging to hear from a young local entreprenuer, owner of Bicycle Bahn Mi Jess Nguyen, who shared her story of how she went from being a financial analyst to distributing delicious street food from the back of her bicycle.
Have a story that resonates w/ people. Give them a reason to make a connection w/ you. -@eatbahnmi #entrepreneurship pic.twitter.com/MeZ3W2kUkB

— BAVC Media Next Gen (@BAVCNextGen) July 10, 2015
Fellows got a chance to observe the work culture at different tech companies such as Microsoft, Lumosity, and Pinterest via field trips. Afterwards, a few fellows felt that they were ready to join the workforce. "I never thought I would be good enough to work at a tech place, but after this visit I feel that I can work here," concluded one participant.
Bridges Fellows learning about 3D modeling on a site visit to Microsoft
Reflecting on my last few years of involvement with Bridges, I am proud to have contributed to building a strong community of collaborators.
Reflections from Desmond Holt, Bridges Fellowship Mentor
We hit the ground running with an introduction from Ingrid Hu Dahl, Director of Next Gen, who set the tone for the rest of the week's program. 
A simple exercise in self-assessment of public speaking skills and confidence levels revealed that most Fellows were absolutely terrified of having to speak in front of more than one person. We had our work cut out for us. The rest of the day we worked to get the Fellows out of their comfort zones by addressing a room full of peers.
Mentors Bradley and Desmond leading a workshop with Bridges Fellows
The next challenge was to get the Fellows thinking about their summer projects. With help from former Next Gen Manager Aisha Fukushima, the Fellows mindmapped and brainstormed their projects in creative ways, collaboratively and independently, and presented their ideas to the group for feedback. They also learned how to create online portfolios and LinkedIn accounts. On site visits to LinkedIn, Google, Microsoft, Heat SF and KQED, they understood why they needed to be comfortable speaking to large groups. All of the employees at these mega tech companies had the soft skills necessary to help them reach their career goals.
With a few pointers from Ingrid and demonstrated examples from Aisha, the Fellows refined their pitches in preparation for the panel. After several practice runs and mock presentations, most them felt more confident the next day despite their nervousness.
"If I pass out while presenting, please someone come pick me up," a Fellow said before her presentation. Friendly laughter echoed in the room before she began. And soon enough, their first presentations, which they were so anxious about, flew by and they were left wishing they had more time to share their entrepreneurial ideas that might some day change the world.
bridges fellows are now pitching their project ideas on how they will spend their $500 of seed funding this summer! pic.twitter.com/Tej577bTL4

— BAVC Media Next Gen (@BAVC MediaNextGen) July 10, 2015