Intro To Soldering and Troubleshooting for AV Archivists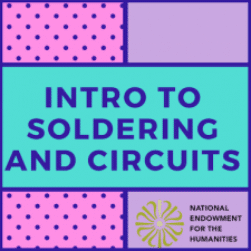 Replacing electronic components can be a tricky task, but if you have the tools, training, and some practice it can be done by almost anyone!
As usual, the best way to get good at something is to do it with some guidance. BAVC Media has created this video workshop to walk through the process of soldering a simple PCB kit. The kit we used is a "xr2206 function generator" that can be purchased for under $15 from various online vendors. During this workshop, you'll learn how to solder and remove electrical components, how to test electrical components, and the basics of using an oscilloscope. This workshop was Produced by BAVC Media Preservation (https://dev-bavc-wp.pantheonsite.io/preserve-media) with support from the National Endowment for the Humanities and the Memory Lab at the DC Public Library.
The workshop was recorded, and is now viewable on YouTube. If you'd like to view the slides you can download them here, or you can view the embedded Google Slides below. If you'd like to follow along you'll need the following tools:
xr2206 function generator (available at most online electronics vendors, or eBay)

Soldering Iron
Sn63 Pb37 Rosin Core Solder
Needle Nose Pliers
Snippers
Wite Strippers
Solder Sucker
Multimeter
Confidence!
_________________________________________
Morgan Morel is the manager of BAVC Media's Preservation Department, where he oversees the digitization of various analog and digital tape-based audiovisual objects. He has worked closely with collection holders with varying sizes and institutional affiliations, and published a report titled A Guide to Approaching Audiovisual Digitization for Artists and Arts and Culture Organizations to help them better manage digitization initiatives. Morgan specializes in transferring ½" Open Reel video tapes, an early video format that many important works of video art, activism, and documentation are held on.
Siobhan C. Hagan is the Project Manager of the Memory Lab Network at the DC Public Library and holds her M.A. in Moving Image Archiving and Preservation from NYU's Tisch School of the Arts. She has worked in a variety of organizations throughout her career, including the UCLA Library, the National Aquarium, and the Smithsonian Institute. In addition to this, Siobhan is the Founder and CEO of MARMIA (the Mid-Atlantic Regional Moving Image Archive).
Blake Hatton is the Digitization Coordinator at Pueblo City-County Library District. He's a curious cat you has learned a lot by opening up decks and seeing what makes them tick, and wants to share this info with you!
BAVC Media is proud to have offered this workshop as part of an ongoing series of web resources and AV Preservation curriculum development made possible by a generous grant from the National Endowment for the Humanities. BAVC Media would also like to thank DCPL Media Lab for hosting this event as part of their educational programming.