Next Gen visits YouTube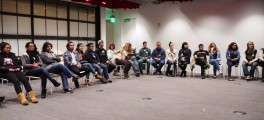 Last week, 35 Next Gen students and eight staff members, as well as 15 students from Loyalton High School, caravanned to YouTube headquarters in San Bruno.
After a nutritious meal, compliments of our hosts, we gathered for a career panel with YouTube employees. The students asked engaging questions and received expert responses from the panelists. The conversation began with an inquiry about women in the YouTube workplace.
Software Developer, Emmanuelle McCullough-Murray, replied with a thought-provoking answer about how her family fully supported her interest in computer science and technology, so she was motivated to confidently pursue her career at YouTube. Adriana Olmos, UX Designer, noted that women tend to offer an attention to detail that stems from differences in psycho-social perspective. She indicated that differences in perspective were a critical component for user analysis.
The panelists then introduced the phrase "How Google are you?" when discussing how to become a YouTube team member. This unique phrase referred to Google's belief that thinking creatively, outside-the-box, are essential traits for new hires. The panelists also emphasized the importance of intellectual diversity within the workplace.
Coding language was a particularly hot topic, especially amongst NextGen G:URL Gamers. Software Engineer Nathan Healey discussed the value of learning one low-level coding language such as Vanilla C and one high-level object-oriented language such as Python.
Healey further explained that expansive computer science skills were crucial for communication with engineers. He advised that a student must not only learn to create, but also learn how to study and perfect the technical skills necessary for creation.
Many students were eager to learn what it takes to become a 'YouTube Partner.' The secret formula, panelists revealed, is relatively simple: good content gets noticed. A few perks of being a YouTube partner include account monetization, and independent control of original content. Partners are also treated with a sense of equality, and given respectful terms of use.
The partnership conversation evolved into a serious discussion of how to respond to hateful comments and other kinds of trolling. Privacy Program Manager, Amanda Conway, explained that linking YouTube accounts to Google+ profiles has helped implement a 'real name' policy, which holds users more accountable for hate speech. Although hate speech is a controversial issue, Conway said that the Privacy and Policy team members were doing everything possible to filter harassment while still protecting freedom of speech.
Although the demand for content streaming platforms is constantly increasing, YouTube views engaging with its competition as a learning opportunity, a message driven home by Project Manager, Essam El-Dardiry. El-Dardiry explained that his team has actively used outward research by referencing other digital media platform models, such as Netflix. In the year El-Dardiry has been with YouTube, his team has made key changes to the homepage and strengthened site accessibility. The other panelists echoed that a balance of outward research and inward cross-referencing with multi-team collaborations were the main factors for YouTube's success as leader in online streaming.
Panelists said that YouTube team members aspire to a positive and resourceful work environment with a focus on developing trust with users. Each of the panelists agreed that they were always asking themselves, "Would the users be cool with this?". The afternoon was an inspiring opportunity for BAVC Media youth, who were grateful for the professional advice and knowledge shared by the panelists. Next Gen offers our biggest thanks to the YouTube team members for volunteering their time and intellect and we hope to be able to partner around future endeavors.