Next Gen Youth Deliver Report Cards on Tech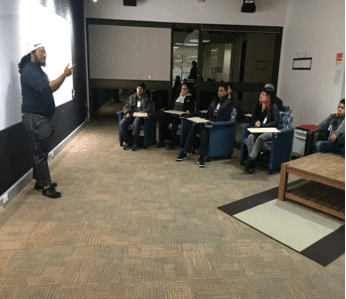 Over the past year the Next Gen team has been working on developing a Theory of Change; a living document that puts in writing our commitment to a shared vision, set of values, goals, and what we believe to be the best practices to achieve those goals. Though the full version isn't quite ready to be shared, I want to elaborate on one of our value statements: ​
"We recognize that in order to imagine new career possibilities, young people need opportunities to gain industry exposure, therefore we provide opportunities for young people to develop positive adult role models representing diverse career choices in their areas of interest."
We recognize that many of the young people in our programs have not been exposed to a diverse range of career possibilities. Therefore, we are intentional in hiring incredible instructors who are leaders in their creative fields and who are deeply committed to positive youth development through providing all students with opportunities to go on field trips and have guest speakers come into their classrooms.
This semester Next Gen students visited KALW, Pandora, Intel, KQED, and Obscura Digital.  Additionally, we hosted speakers from Pixar and Women's Audio Mission.
In an effort to empower students to critically analyze the companies they visited, Education Manager Lauren Taylor created "Report Cards" for students. After returning from the trips students had the opportunity to evaluate the company on three categories: people, work and space. The "people" section invited students to reflect on the diversity of the office, asking, "Is it good for folks of all gender expressions, races, religions, and learning styles?" Students analyzed whether or not the space itself was inspiring, creative, collaborative and accessible. Finally, they were given the opportunity to reflect on which tech skills and leadership qualities learned at BAVC Media would be necessary to work at the company.
Reflecting on the trip to Obscura Digital, one Game, Code and Design student commented that the office (which was named "World's Coolest Office" by Architizer) facilitated collaboration because "The space was unhindered by office dividers and has much room for collaborative projects."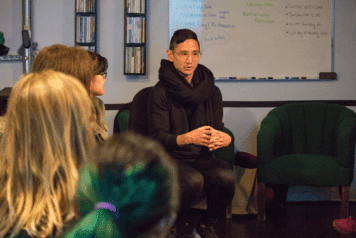 Students who had guest speakers visit their class were also encouraged to reflect deeply after the visit as well as to prepare questions beforehand.  Factory instructors Sarah Gonzalez and Diana Yip led their students in a group brainstorm before their visit from former Pixar employee Nick Sung.
Nick spoke about stories and the importance of perspective.  He asked the class "What is a weed?" and then told a personal anecdote about a teacher who had shared a Ralph Waldo Emerson quote with him: "What is a weed? A plant whose virtues have not yet been discovered."
When surveyed at the end of this first trimester, nearly all students reported that they felt that they had had the opportunity to meet positive adult role models.
We look forward to continuing to provide these opportunities to our students.  If you or someone you know works for a Bay Area-based company and might be interested in Skyping in, visiting BAVC Media in person, or hosting a site visit at your office and talking to some incredible emerging media professionals studying film, audio production and/or game, code and web design please don't hesitate to reach out to me at nicolewisler@bavc.org!
To see more pictures from the first trimester please visit Flickr or to stay up to date with what's happening follow us on Instagram @BAVC MediaNextGen and Twitter @BAVC MediaNextGen.