Now Available On YouTube: From Video Activism to Early Immersive Media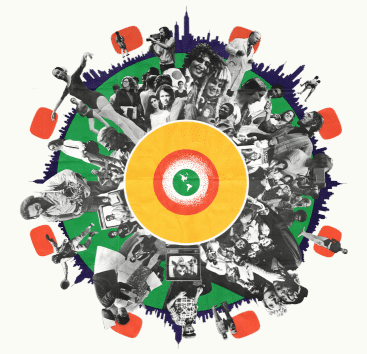 Stills from: Crip Camp (left)                   Mind of Universe (right)
On June 3rd, 2020, BAVC Media streamed a video event highlighting the history of early video collectives The People's Video Theatre (PVT)  and Survival Arts Media (SAM) through their archive of preserved analog video. From their roots as video activists to their mind-expanding experiments with video art and early immersive media performances, the story of PVT and SAM is the story of early video's growth into its own distinct form of expression and storytelling. A video recording of the streaming event is now available for viewing here!
In these 90 minutes you will…
• Gain context for and learn the importance of archival footage
• Understand the history of early video, with emphasis on community impact
• See remarkable footage from the archives
About the People's Video Theater and Survival Arts Media
The People's Video Theater and its successor Survival Arts Media were pioneering video collectives active in New York State during the late 1960's –1970's. PVT-SAM along with the Videofreex, Raindance and Global Village, and individual artists defined analog video as a distinct creative medium as opposed to the independent filmmaking of the era. In February of 2020, 10 terabytes of digital files restored at BAVC Media from analog tapes in the PVT-SAM archive were accessioned to the NYU Special Collections Library in Manhattan. The breadth of the early video archival content spans liberation movements–such as those organized by women, LGBT communities and people with disabilities–downtown SOHO artists and culture, video street theater, environmental and health issues, live immersive media performance, electronic art works and the Artists Craftsman Anthology.
In March of 2020 Netflix premiered Crip Camp, an deeply moving documentary film about the heroic personalities and collective struggles and fights involved in bringing rights to the disability community. This documentary contained a number of arresting images from archival video and film sources, and among these were clips from Camp Jened, a summer camp where teenagers with disabilities were given the opportunity to be themselves. In a beautiful twist of fate, the Camp Jened footage was captured by members of PVT, who were in the right place at the right time and were the right people to do it. Through their unique documentary methods the PVT members were able to capture the personalities and struggles of the camp goers, and playback the video images allowing the teenagers to see their own images reproduced on television.
This event includes a screening of archival content from the PVT-SAM collective. Some of this material was used for Crip Camp, while some of it hasn't been seen by the public in over 40 years. Howard Gutstadt and Ben Levine would welcome questions about their early video projects. They can be contacted at vgarts@yahoo.com and ben@speakingplace.org 
About the Experts: Howard Gutstadt, Ben Levine, and Kelly Haydon 

Howard Gutstadt and Ben Levine (People's Video Theater – Survival Arts Media)
Howard Gutstadt and Ben Levine were early members of People's Video Theater in New York in the early 1970s. The collective traveled the region with their Sony PortaPak cameras, playing back video for their subjects to facilitate discussion and participation in the storytelling process, and documenting various counterculture and liberation movements.
Howard Gutstadt and Ben Levine went on to co-found Survival Arts Media, which explored the use of video in diverse areas including: improvisational street theater, political activism, artistic biography, public access television, and immersive multimedia performance.
Howard relocated to Berkeley, CA in 1978 to establish Digital Image Productions and work with Sony and Autodesk Corporations to develop software tools for artists. Today he lives in San Francisco, CA, where he is a consultant and educator focused on the intersection of contemporary arts and moving media technologies.
In 1976 Ben moved to Maine and founded the documentary and distance learning lab at the University of Maine In Augusta. He later became an independent producer of community education and social issue documentaries. Working within marginalized communities, he adapted PVT/SAM's community participation methods using video feedback, founding Speaking Place in 2010 to document and revive endangered languages.
Kelly Haydon (NYU Special Collections)
Kelly Haydon was previously the Audiovisual Archivist for Special Collections at New York University's Elmer C. Bobst Library, and the Preservation Manager at Bay Area Video Coalition. She holds degrees from NYU's Moving Image Archiving and Preservation Program (where she is also an adjunct professor) and School of Visual Arts. In addition to XFR Collective, she is a volunteer archivist at Third World Newsreel.
Timeline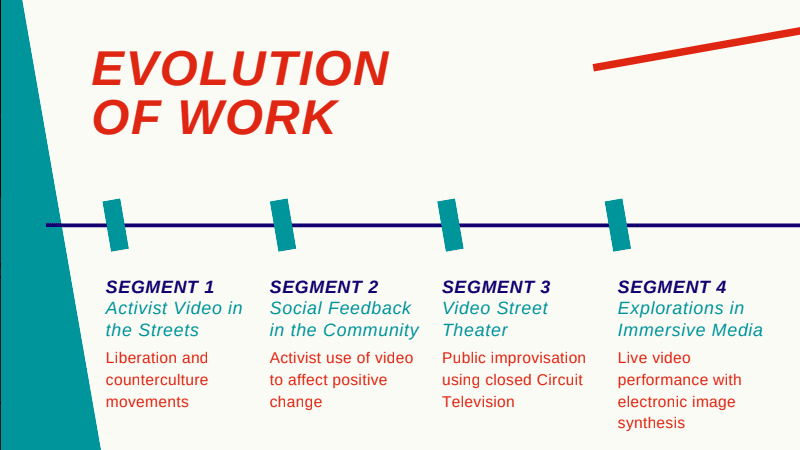 ➜ People's Video Theater began in the early 1970's as a group of documentarians using the first portable video recorders as a substitute for film in recording the lives and struggles of underrepresented communities and identities.
➜ PVT Realized that they could videotape their subjects, then playback the images so the subject could watch themselves on screen. This was the first time many of these people could see someone like themselves on television
➜ Eventually the screenings moved from indoor theaters into the street, where public closed-circuit television performances were held. Ordinary people could participate in performances and see themselves on screen as they were performing
➜ PVT turned into Survival Arts Media as the members became interested in creative immersive multimedia experiences, using synthesized and manipulated video signals in creative and artistic ways to create previously unimaginable visual imagery and textures.
➜ 10 TB of footage from ½" Open Reel and U-matic audio cassettes was digitized through BAVC Media's Preservation Access Program and will be held in NYU's archive.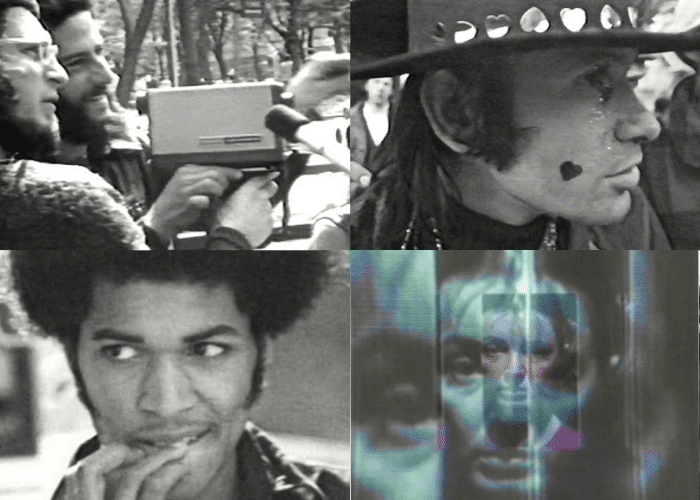 Stills from: Who We Are (top left)                Erotic Art Coloring Book (top right)
VD Health Tapes (bottom left)                      Immersive Media (bottom right)