Preservation Access Program Featured Artist: Charles Woodman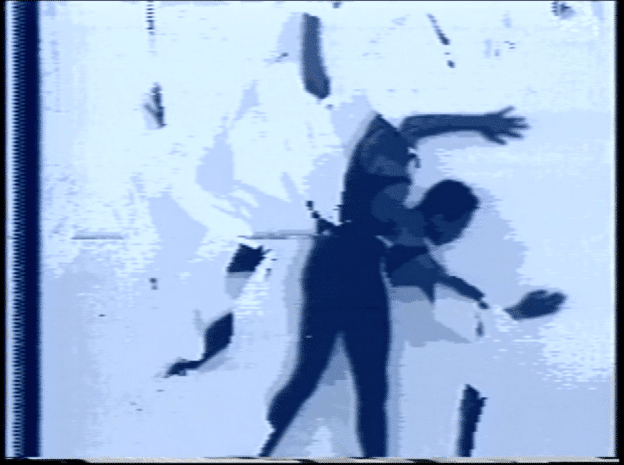 At the end of 2016, we will have celebrated three years of continuous support from the National Endowment of the Arts for our Preservation Access Program (PAP), having provided affordable digitization and preservation services to nearly 100 artists and organizations whose latter-century works are locked into obsolete media formats. In celebration of reaching that milestone, we will be highlighting those participating artists whose dedication to preservation and access is exemplary.
Featured this month is Charles Woodman, an electronic artist who has been working with video and expanded media since 1980. His recent projects have concentrated on the creation of multi-image video installations, and the integration of video with live performance, often in collaboration with musicians or dancers, Exhibitions of his work include screenings at the Museum of Modern Art in New York, Block Museum of Art, Chicago, the Black Maria Film and Video Festival, Edison, NJ, and the American Dance Festival, Raleigh, NC. Woodman is a founding member of the video performance ensemble viDEO sAVant and has been a pioneer in the development of live cinema – real time video editing as live performance. Recent appearances by viDEO sAVant include performances at Spazio Conteporanea in Brescia, Italy, ISEA in Dubai, Villa Douce, Reims, France, and the San Francisco Cinematheque.
"For the past year I've been thinking about trying to organize a digital archive of all my work. Many of the master copies of my older pieces are still on obsolete analog tape formats, making them essentially unplayable. The BAVC Media Preservation Access Program has been an amazing resource, and has helped me to bring those older artworks back to life again."
Woodman recently applied for more videos from his collection to be preserved in the upcoming round of PAP, the deadline of which is June 7th, 2016. We were thrilled to learn that the preservation of his works did not end at digitization. He has been working with Madeline Fix, a Masters in Library Science student at Kent University, to organize and catalog the metadata for the files transferred by BAVC Media; a great example of an artist and an information professional working together to ensure the longevity of unique material. For those interested in learning more about working with the particular challenges of preserving moving image media, Archiving the Arts is a great resource developed by archivist and artist Mona Jimenez.
While the files created by BAVC Media await ingestion by the University of Cincinnati, the records can be viewed on on Scholar@uc and have already shown their usefulness. We referenced the record for Dance Tracks (1990-2006) while completing an upload of the piece to our Internet Archive page. Woodman has graciously given us permission to use this funky yet scrupulously stylized take on the videodance genre as our inaugural entry on our long-overdue Internet Archive page; you can check out more of his works, new and old, at http://www.videosavant.org/.