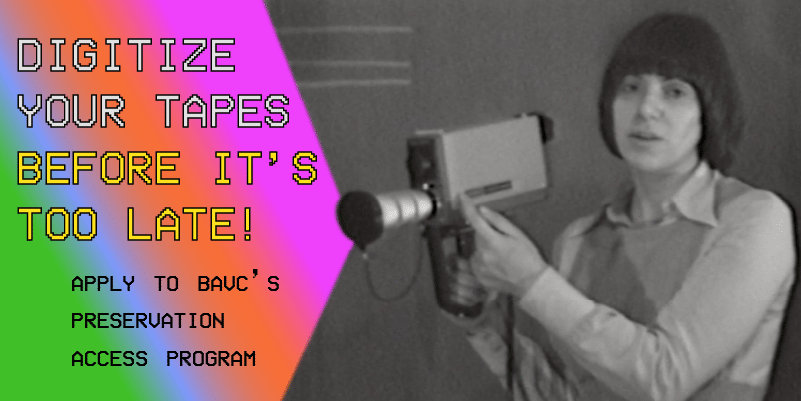 Digitize your tapes before it's too late – apply to BAVC Media's Preservation Access Program!
The old tapes you have in storage are likely way past their shelf-life, and the longer they sit the harder it will be to preserve the content they hold.
Digitizing and preserving your audiovisual media collection can be difficult, time-consuming, and expensive, but through the Preservation Access Program, BAVC Media proudly provides museum-quality transfers and preservation services at a reduced rate.
BAVC Media specializes in performing high-quality preservation-grade digital transfers of tape-based media. Through the Preservation Access Program, BAVC Media is able to provide affordable preservation services to individuals and small-to-midsize organizations who have analog audiovisual materials in their collections. Especially if those collections contain art, activism, or content featuring BIPOC communities and LGBTQ+ communities! Services include analog-to-digital preservation transfers at a discounted rate based on organizational budget size. Join the ranks of artists and organizations who have had their works digitized and preserved by BAVC Media Preservation!
BAVC Media has always been about giving people from all walks of life the resources to tell their stories, and we want to help you bring the stories of the past into the future! If you are interested in participating in this round of PAP, you can fill out our application below. The deadline for submitting applications is Monday, February 8th, 2021.
If you have questions and live in the Bay Area, BAVC Media will be holding a virtual informational event on Tuesday, February 2nd, 2021 at 5pm PST on our twitch channel to discuss the program, application tips, and preservation techniques. In addition, there will be a screening showcasing materials digitized by past BAVC Media PAP recipients. If you can't make it to the event and have any questions about the application, feel free to reach out to us directory at preservation@bavc.org
This is all thanks to generous grants from the National Endowment of the Arts (NEA) and the Andrew W. Mellon Foundation. NEA & Mellon funding also supports BAVC Media's efforts to advance audiovisual preservation practice, theory, and accesibility based on new and innovative developments in the field.
Applications are now closed, but feel free to email us for updates on future rounds!
Recent participants in the Preservation Access Program include: 
Videoda
Visual Studies Workshop
People's Video Theater / Survival Arts Media
Pamela Cohen
Larry Ackerman
Scarlett Shepard
Eva Soltes
Charles Atlas
The GLBT Historical Society
Visual Studies Workshop
The Salem School District
The New Arts Foundation
Friends of Knoxville Country Library
Global Village
Planet Drum
and many more!
Flip through this slideshow to learn more about the services being offered and how to qualify: