Recap: Makers, Learners, Seekers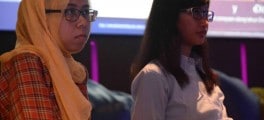 I recently had the opportunity to participate in the webinar "Makers, Learners, Seekers: Showcasing Your Work Through Portfolios and Certification" as part of @america's Makers in American Spaces webinar series, where the audience explored non-traditional ways of assembling knowledge outside of the classroom. I was invited to speak on the panel due to BAVC Media's history of helping underrepresented teens create portfolios for themselves to better showcase their media and tech skills. The Maker Ed Initiative published this feature blog post, which caught the eye of the U.S. Embassy in Jakarta, which then connected us to @america.
I was joined by panelists Kylie Peppler (Indiana University) and Cody Coltharp (Smithsonian). The event highlighted our experience in developing new educational tools that are making a difference in our students' lives.
Kylie discussed maker events, such as Maker Faires, digital badging, and the open portfolio movement. She showed how artists create e-portfolios to demonstrate their skill sets and the progress they make in the long run. Kylie also shared a case study of the Millvale Community Library, which has a maker space and of the Digital Harbor Foundation, located in Baltimore, MD. The program uses Tackk as a platform to document the progress of youth portfolios, and includes video and audio prompts for students to add photos of their work documenting various stages of effort. Lastly, Kylie discussed how portfolios are used in college admissions via MIT's Build in Progress platform, which accepts maker portfolios as an alternative to an admissions application.
Cody, who teaches game design using Unity presented on ArtLab+ Certification and digital badging. At Art Lab, media and tech professionals spend each day of the week on a different topic, including video, photography, audio engineering, 3D animation/modeling and game design. As with digital badging, the ArtLab+ experience emphasizes the process of learning media production skills rather than the finished product.
For more, watch the conference here.