Reflecting on the Preservation Access Program's First Year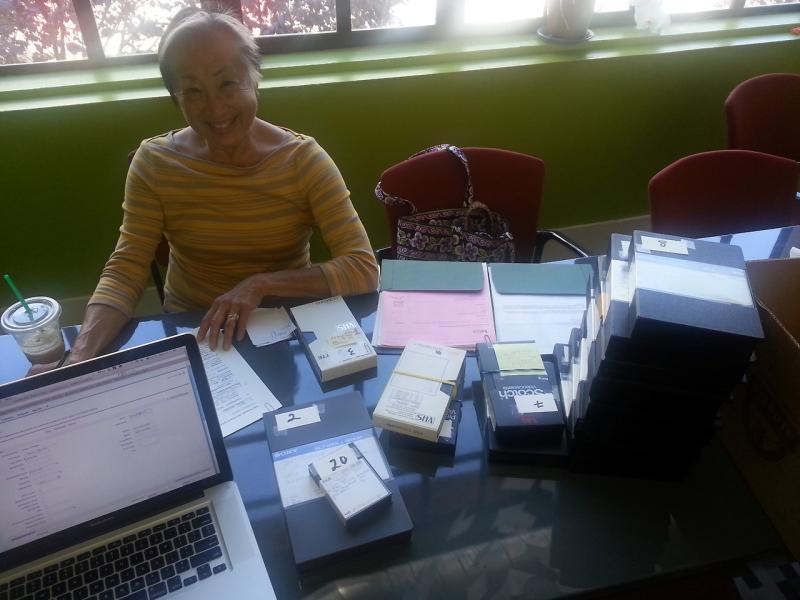 By Moriah Ulinskas
In the Spring of 2013 BAVC Media launched the Preservation Access Program [INSERT LINK], a program funded by the National Endowment for the Arts.  The goal of this program is to connect individual artists and small to medium-sized arts and culture organizations to resources for audiovisual preservation planning and to subsidize (by as much as 70%) the cost of preservation migration (digitization) for participants accepted into the program.
Our goal was to get artists and organizations to think about the future of their legacy recordings and to do the work of inspecting and inventorying their tapes and understanding how to prioritize them for preservation.
BAVC Media Preservation Access Program awardee June Watanabe finalizing her tape selections for preservation.
To that end, we've tried to make the Preservation Access Program as accessible as possible. In addition to subsidizing much of the cost of the actual preservation services, we offer hands-on assistance at every step of the way: from filling out the application [INSERT LINK] and inventory sheets, to sitting down and inspecting every tape brought to us in order to come up with the best strategies for preservation and long-term storage.
And it worked: artists pulled dusty boxes of tapes out of their basements, organizations put "archive planning" on their board meeting agendas, and more than 800 audio and video recordings have been preserved in 2013 alone. Plus, we had the chance to work with a handful of partner organizations that we've always wanted to work with (but couldn't because of financial restrictions), and we met a bunch of new and interesting organizations and artists we look forward to maintaining ongoing relationships with.
And I'm happy to report that the National Endowment for the Arts has generously granted a second full year of funding, so we are accepting applications again for round three. Apply here (Deadline is July 15, 2014).
Whether or not you wind up applying to round three, we urge you to value your recordings as much as we do and to make sure they make it into the 21st century and are accessible to future audiences.
With that said, here are some highlight from our first year of Preservation Access Program participants and their amazing collections!
Here Come the Videofreex (NR Productions): a film that tells the story of  pioneering video collective, The Videofreex, who set up the nation's first pirate television station from a small town in the Catskills (this station became a catalyst behind the regulations that spawned public access television). As part of the production of the film NR Productions is preserving part of the vast archive of videotapes, shot between 1969 and 1977, held at Video Data Bank.
Janice Crystal Lipzin has been making art in virtually every form of reproducible media for nearly forty years. Preserved through this program is source footage for a video titled Franz Liszt, made in 1977. Lipzin invited 17 artists, art historians, and others to compose lists from their personal experience and perform the list for three minutes. The recitations of the performers' lists provide a collection of  unorthodox and concentrated portraits which reveal the performers' personal narratives, obsessions, and histories. Performers include  filmmaker, Gunvor Nelson; former  Artistic Director of the San Francisco Cinematheque, Carmen Vigil; film/video performance artist, Joe Gibbons; artist, Al Wong; filmmaker, Joel Singer, and others.
Media Burn/ Kartemquin Films: In 1966, Kartemquin Films began making documentaries that examine and critique society through the stories of real people. The  tapes in this collection fall into one of two categories: radical 1970s counterculture/activism and documentation of American cultural traditions. Founded as a filmmaking collective, these tapes mark a period of experimentation with the new medium of videotape that Kartemquin eventually adopted exclusively for shooting.
The Shirley Clarke Papers at The Wisconsin Center for Film + Theater Research: The Shirley Clarke papers document the life and work of a noted American filmmaker and artist.  In the 1970s and early 1980s, Clarke experimented with live video performance, returning to her roots as a dancer. She formed the Teepee Video Space Troupe at her Hotel Chelsea penthouse. This group included video artists Andy Gurian, Bruce Ferguson, Stephanie Palewski, DeeDee Halleck, Vickie Polan, Shrider Bapat, Clarke's daughter Wendy Clarke, and many others. The Troupe were also early experimenters with taped video performance, installation and documentation.
June Watanabe in Company's mission is to create humanistic artistically innovative multi-media dance theatre and pure dance works that explore the social and cultural diversity issues that impact the lives of women and humanity.  Works preserved through this program are based on Watanabe's cultural heritage as a Japanese American woman, aesthetic interests in the ancient form of Noh Theatre and its a reflection of the Japanese mind and character, investigations in the field of modern dance as influenced by East/West sensibilities, and most importantly with the experiences of the Japanese American WWII Internment which evolved continuously over a 22 yr. period of her career.
New Orleans Video Access Center (NOVAC): NOVAC's mission is to cultivate a sustainable local film community by providing access to training, resources and locally generated content.  For 41 years, NOVAC, the South's oldest media arts center, has supported filmmakers and connected them to the community through filmmaker services, video production resources, training, education and community events. The works preserved represent a variety of provenances, but the majority of the items were created for broadcast on local cable access and public television stations and include PSA's addressing issues like renter's rights and police brutality in New Orleans.
The Ruth Page Collection at the Chicago Film Archives: The Chicago Film Archives (CFA) is a regional film archive dedicated to identifying, collecting, preserving, and providing access to films that represent the Midwest. Preserved through this program were 130 Beta SP videotapes that are camera original interviews with Chicago-based dancer and choreographer Ruth Page, other dancers who knew Page and dance critics.
The Poetry Center & American Poetry Archives: The Poetry Center's mission is to present, promote, and document the work of a diverse cultural spectrum of outstanding contemporary poets and writers. Focus of preservation is the Richard O. Moore Collection. Moore interviews a host of prominent American poets, often in their homes or comparable locales. In many cases, this is the earliest (and, on at least one occasion, the only) existing moving-image documentation of these writers. Included among the subjects are poets Frank O'Hara (with painter Al Leslie), Anne Sexton, Robert Duncan, Charles Olson, John Wieners, Denise Levertov, Robert Creeley, Louis Zukofsky, Kenneth Koch, John Ashbery, Ed Sanders, Philip Whalen, Gary Snyder, Michael McClure Lawrence Ferlinghetti, Allen Ginsberg, Richard Wilbur, and William Everson (a.k.a. Brother Antoninus).
Pacific Film Archives– From TVTV Meets Rolling Stone, a made-for-TV documentary shot in the editorial offices of Rolling Stone Magazine when it was based in San Francisco. Reels contains interviews with Jann Wenner, Ralph J. Gleason, Hunter S. Thompson, soul singer Al Green, novelist Tom Wolfe, and others. These ½" open-reel tapes contain extended, uncut interviews not seen since their inception which promise to capture a sense of that now-vanished cultural moment when a single, independent magazine's innovative reportage could influence a vast entertainment industry.
 Ben Fong Torres, Al Green, unidentified camera man, and Hunter S. Thompson in the office of Rolling Stone magazine.
The South Dakota Oral History Center is devoted to documenting the history of the Northern Plains region through oral interviews, and to the care of collected recordings. The collection preserved through this program consists of recordings of Native American music in a variety of settings.  It includes recordings of live pow-wows, Native American Church service music, and group and individual musical performers, both vocal and instrumental.  Recording dates range from the 1970's to the 1990's.