These 5 Tips won't win you a Tony but they could land you the job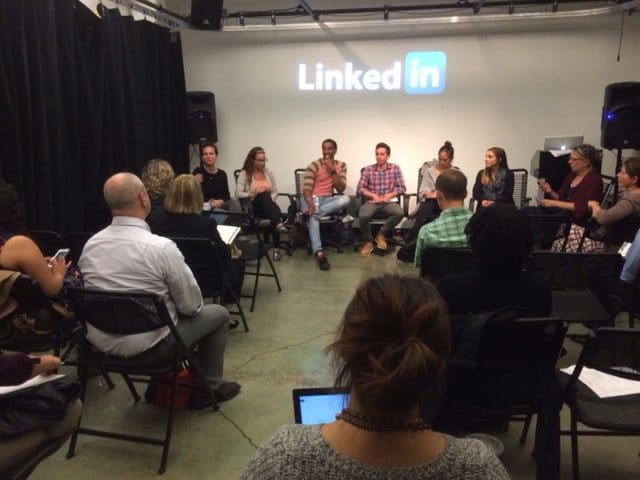 A skilled performer seizes the opportunity to practice before taking their act to the stage by going over the script, meditating for focus, and perfecting techniques to connect with their audience. The same goes for the art of job interviewing; practice can make things pretty close to perfect.
Last month, jobseekers from the TechSF program benefitted from participating in a mock interview event with members from the LinkedIn Sales Solutions Team. After the one-on-one mock interviews took place, the group gathered for a debrief session to hear from the LinkedIn team about tips on interviews based on what they observed.
Here are the top five interviewing tips we gathered from representatives of the world's largest career networking platform:
Be human. Make your stories about your past experiences compelling, relevant and relatable. Stories humanize things, make you more than your resume, and put your interviewer at ease. Rehearse them in advance so you sound relaxed when relaying them.
Don't be a Pollyanna. Building on the "Be human" tip, weave in the challenges even when the end result is positive. Don't equate being successful with NOT exposing vulnerability and conversely, be forthcoming about times you've failed and what you learned. Hiring managers are looking for this connection–what motivates you to dig in and what adversity you've faced. Use the phrase when possible, "Knowing what I know now…" to demonstrate your self-awareness and adaptability to a wide array of scenarios.
Don't rush and give yourself breathing room. Take a moment to pause when asked a question to which you may not have a ready answer and gather your thoughts instead of filling in the blanks with banter and um's. Do your best to stick to the question asked instead of trying to squeeze in a canned answer.
Convey your passion by being specific. Why this company? Why does this role appeal to YOU? Don't serve up anything generic. Be the most authentic marketer of your own skills and passion for the company. Win over your audience with specificity based on research.
When in doubt, write it out. In addition to rehearsing your anecdotes and rooting your answers in research on the company and the role, write down your list of questions for the interviewer. Do not rely on memory alone, as your brain is going to be working overtime to calm your nerves. Be nice to your brain and your nervous system by writing down those questions. And don't be afraid to ask one or two if given the chance.
Thank you LinkedIn for helping the local community of jobseekers be prepared for their next big show! For more information on the TechSF program, please contact annie@bavc.org.