Want a tech job? Stop looking!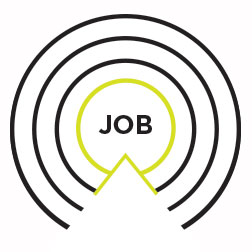 So you've heard it before, when it comes to scoring a new job in tech, "It's not what you know but who you know". Good advice. In fact you've probably already come to realize that the online job-hunting routine is just not cutting it. The reality is that if you are looking at tech jobs that are posted right now, it's already too late. Most jobs get filled by a qualified person who has benefited from the right introduction at the right time, namely before the position became vacant. Trolling job boards will never do that for you. It is time to rethink your approach.
Here are a few suggestions the BAVC Media Career Counseling team has put together for those of you wanting to get ahead of the tech job search curve:
Target companies, not job openings
Assemble a list of 35-50 companies that hire people with your skill set. Divide it up by sector; for example, if your are a UX Designer you might have companies with an in-house function, design firms, marketing companies, web design companies, etc. Don't forget to include companies that do what you love so if, for example, you are an avid fitness advocate do include companies in that field.
Work your network.
Prioritize your company list and look each of them up on LinkedIn to see whom your potential second-degree connections might be.  Use your first-degree connections to introduce you for the purpose of setting up an informational interview. Remember each time you have a conversation ask "Who would you recommend I speak with to learn more?" and try to work your way up the food chain to hiring managers.
Build relationships
Another thing to ask at the end of each interaction is "What can I do for you?"  Relationships are built on reciprocity so when you can offer something to help your contact, they will help you.  Build the relationships by periodically getting back in touch every few weeks and offering more.  Tell your contact about a resource, another potentially beneficial connection, or an event they might appreciate. Stay on their radar.
Cast a narrow net
Your search will be more effective if it is tightly focused.  If you tell someone that you are looking for a role related to managing projects or events, it's hard for them visualize a good fit and therefore, challenging to recommend other contacts or companies. It also makes you less memorable. Do you have an industry focus? A geographic focus? Do you have expertise in a specific field like software development or banking?  Would you like to work in a start-up or an established company? The more specific you can be, the more useful your networking will be.
There can be only one
Job search is about quality, not quantity.  If there were a gazillion job openings it would not mean you have a better chance of landing them. You need to be positioned as the best candidate for each opening you chase, not throw your resume at every ad you see. When all's said and done you only need one job. That means the one you have spent weeks or months cultivating contacts and positioning yourself for you'll be the obvious best fit when it opens up.
Now, time to close that browser and start cultivating relationships. Are you ready to pump up your networking and relationship building chops?
Attend two of BAVC Media's Career Workshops:
Learn how to execute a contact marketing campaign using LinkedIn and your target company list at our LinkedIn Logics Workshop
Get prepared to conduct your networking and informational interviews during Hardly Strictly Networking