Summer with Next Gen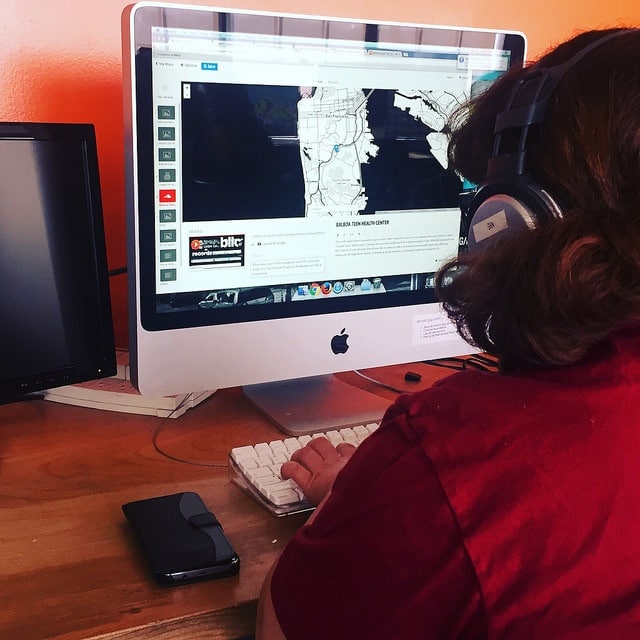 Written by Sarah Gonzalez and Nicole Wisler
At BAVC Media, we believe it is crucial that the young people we serve have the opportunity to tell their stories in a way that makes a concrete impact on the larger community. As such, this summer, BAVC Media students had the opportunity to put the industry-standard production skills and understanding of social justice frameworks, honed through our project-based curriculum during the school year, to work in partnership with two wonderful organizations: The San Francisco Public Utilities Commission and the Anti-Eviction Mapping Project. These summer Social Action Projects were a capstone to the students year in our Next Gen programs.

For the past six summers, Factory students have worked in partnership with various Bay Area organizations to produce an array of films, fondly referred to as the summer Community Filmmaking Partnership. Past organizations include City Slicker Farms, the Edible Schoolyard, Lyric, Girls Rock Camp and many more. These summer projects are an opportunity for students to apply their filmmaking skills towards a professional project working with a client. The Factory also brings together students with varied experience (Factory alumni, current Factory student and Reel Life students) to collaborate and learn from each other.
Over the past three summers Factory students have worked with the San Francisco Public Utilities Commission around a specific theme. Past themes include climate change and what youth are doing about the drought. This year, students produced three incredible films focused on issues of environmental justice. Growing Community, directed by by Kelly Lau and Sylvia Colt-Lacayo, produced by Marielle Boland, is an investigation into the importance of green spaces in urban environments for residents, their mental and physical health, and the environment. These students focused on the ways in which San Francisco's College Hill Garden is working to help add more productive green spaces to our city. Nicole Rivera and Gema Ceron, directors of Concrete Canvas, produced by Reyna Colt-Lacayo, visited a number of beautiful sites to explore the ways in which public art not only beautifies, but also empowers communities.  Finally, directors Janelle Kung and Walden Smith, produced and edited by Judy Lee, along with their team, traveled all the way to Hetch Hetchy to produce Straight From the Source, a look at the San Francisco Public Utilities Commission's process of bringing quality drinking water from the valleys of Hetch Hetchy to the homes of San Francisco's residents, while also revealing the problems that arise from California's drought.  These films premiered at the historic Roxie Theater on Saturday August 20th to an audience of locals and had an encore screening during the Bernal Heights Outdoor Cinema's Friday night Film Crawl.  In addition to sharpening their filmmaking skills and the professional experience gained by working with a client, Factory students built an incredible community that encompassed alumni, current students, and future students.
The Anti Eviction Mapping Project is a data-visualization, data analysis, and storytelling collective documenting the dispossession of San Francisco Bay Area residents in the wake of the current tech boom.  Young people have been dramatically impacted by this phenomenon- displacement has left SF with the lowest population percentage of young people of any major city in the U.S.  Some of our students have themselves been forced to relocate, while many more have seen it happen to friends, family members and neighbors. Their project, "The Bay Area Youth Power Map," showcases outdoor spaces, organizations, and institutions that students deemed as important resources for them here in the Bay Area through written descriptions, videos, and in-depth oral history interviews. Using a mapping platform developed through the Knight Foundation, the project was entirely produced by students from all of our beginner tracks working collaboratively. Students from our Game, Code and Design class coded the map, students who participated in Reel Life produced two short videos and students who participated in BUMP and Sound Bytes facilitated and recorded the oral history interviews. The final product is an immersive call to action for viewers to learn about the spaces that support our city's youth population and to advocate for the protection of these places in the face of overwhelming gentrification and displacement.
You can view it here: http://www.antievictionmap.com/bay-area-youth-power-map/