TechSF Celebrates First Tech Apprenticeship Placement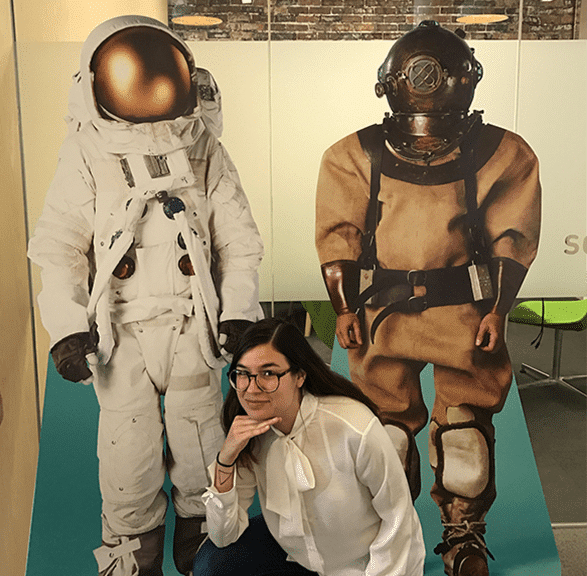 TechSF Celebrates Its First Tech Apprenticeship Placement!
In the Fall of 2015, Mayor Ed Lee announced a Department of Labor (DOL) grant awarded to the City of San Francisco to launch the TechSF Apprenticeship Learning Accelerator to offer residents pre-apprenticeships and apprenticeships within the tech sector. BAVC Media and the Office of Economic and Workforce Development are pleased to announce that the first Apprentice in this program has been placed at local tech company, Zendesk.
Zendesk, who builds software for better customer relationships, seized the opportunity to host the inaugural TechSF Apprenticeship. Located on Market Street, the company's commitment to community partnership is second only to its commitment to service innovation. BAVC Media sourced five candidates from its talent pool and Zendesk selected Gabbi Sanchez who began her Marketing Support Specialist Apprenticeship on Monday, November 14, 2016.
"We are indebted to Zendesk for their role in piloting the first TechSF Apprenticeship and thanks to their help, we will roll out more registered Apprenticeships for local companies with more ease," shared Annie Tahtinen, BAVC Media's Senior Manager of Workforce Development.
As a Marketing Support Specialist Apprentice Gabbi will receive 2,700 hours of on-the-job training, Gabbi will also participate in approximately 144 hours of instructional training related to her new position. Raised in Nicaragua, Gabbi has lived in San Francisco since 2007. She utilized the no-cost resources funded through TechSF to upgrade her technical and interpersonal skills through BAVC Media programing. This unique and diverse artistic perspective will certainly enhance her contribution to the Zendesk ecosystem.
"We first became interested in the TechSF Learning Accelerator as the tech industry has some of the worst statistics when it comes to diversity," said Tiffany Apczynski, VP of Public Policy and Social Impact at Zendesk. "In the aftermath of the recent election, we now recognize that this partnership is one small step in helping to bridge what we see as a national digital divide. The value of this partnership cannot be underestimated and we hope to see it grow and others like it."
"What I find most exciting about the expansion of Apprenticeships into the tech sector," expressed Carmelo San Mames, OEWD's TechSF Apprenticeship Program Officer, "is that they represent a customizable and employer-led solution that directly impacts the talent acquisition challenges for which businesses are seeking solutions."
The Apprenticeship Learning Accelerator program is part of the TechSF initiative which has helped placed 1,250 individuals into opportunities in the tech and digital media industries since 2012.
For more information about the TechSF Learning Accelerator please visit TechSF or contact Annie Tahtinen at annie [at] BAVC Media [dot] org or Carmelo San Mames at carmelo.san-mames [at] sfgov [dot] org.